Hiring employees is a tough, get our indeed Clone
We can say that Indeed has revolutionized the way the job hunting process is being done. With that, Indeed is the top-most aggregated search engine for any and every job that a person seeks. It has made things easier for freshers as well as employers to reach their destination in a short span of time.
Placing right candidate to right job is the prime responsibility. Placement service includes job seeks and job providers in a huge number. To handle papers of all of them is very difficult and trusting on fake scripts from scrap is very difficult as been dealing with sensitive piece of data. Stuck in between them, cannot drive you to any solution, use our Monster Clone.
What is Indeed?
Indeed is one of the world's largest and widespread job boards. By now, it has more than 180 million visitors per month. One of the best things about Indeed is that they allow free job posting ads to employers. With all these, they even have some listed some of the highest quality resumes over their sites.
How Does Indeed Work?
Looking at Indeed's wide industrial reach and employment network, most of the job seekers, recruiters or HR managers rely on the site to achieve their aim. The Indeed portal comes with several add-on benefits as well as they have added convenience support to help a user get their goal with great ease. To understand how does Indeed work in-depth, let us go through it in two parts as below.
Indeed Business Model
Indeed business model is offering a seamless interface to an employer and a job seeker to meet their expectation. The portal over here lists various job choices and can help the recruiters and HR managers to announce vacancies in their companies. With that, Indeed business model includes an updated database to help job seekers to find jobs as per their relevant industries. The site uses a web crawler to search for jobs that are being posted by various employers. Here, the data collected by a web crawler is then displayed over the site. Apart from serving as a job listing portal, they even help employers finding the right candidate for their company with its web crawler engine. Indeed, by now, has approximately 200 million active users monthly.
Indeed Business Model Canvas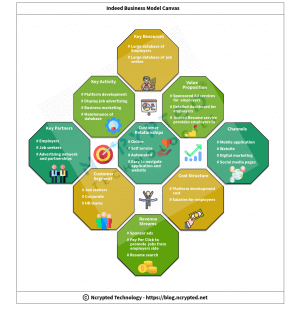 Are You Keen To Have a Startup Like Indeed?
After having every detail on what is Indeed from tip to tail, are you planning for a startup with your own job portal? We at NCrypted have our own product names as "JobGator", a job board software. JobGator enables you to get started with your own job board software. With that, we even have website clone available for
Indeed clone
. We even offer customized solutions, where you can easily custom your job board software as per your niche.
Vote for this post
Bring it to the

Main Page